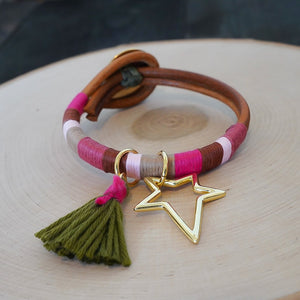 Handmade brown leather cord  bracelet. The bracelet has woven cotton cord in contrasting colors, and a 18k Gold plated Star  charm. 
The button at the end is 24k Gold plated. 
|---| 20cm Long. 
**If you have a different measure please let us know. 
You can measure your wrist:
1 – Get a piece of string or ribbon and wrap around your wrist, marking at the point both edges come together and feel comfortable and not tight.
2 – Take the measurement of that string or ribbon with a ruler and that would be exactly the length of your wrist in cm or Inches.